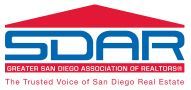 Election of 2019 SDAR Directors Takes Place Aug. 20-30
Candidate names are listed in the order of a drawing conducted by the SDAR Nominating/Election Chair and in accordance with procedures defined in SDAR's Administrative Election Procedures. Ten candidates will be elected to two-year terms.
Jeremy Sine
Spencer Lugash
Lesha Montoya
Barbara DuDeck
Frank Powell
Ginni Field
Ann Throckmorton
Michael Goh

Brian Westre
Jessica Pusser
Shawan Owusu
John Shannon
Ben Evers
Amber Anderson
Mary Mitchell
Martha Luce
Timeline of Election of Board of Directors
July 9 - Deadline to petition to be on the ballot AND in the Candidate Guide.
July 20 - Record Date (Voting members must have their current e-mail address on file at SDAR prior to this date. Contact Member Services or go online to ensure your e-mail address is current.)
July 27 - Deadline to petition to be on ballot only*.
August 20 - Online voting begins at 8:00 a.m. (E-ballot sent via e-mail to all eligible members.)
August 30 - Online polls close at 5:00 p.m.
August 31 - Nominating/Election Committee meets to receive results.
September 21 - Election results reported to Board of Directors for ratification.
TBD - Annual Meeting - President declares the election results.
For questions about the election process, call (858) 715-8035.
* Petition Process as per SDAR Bylaws: "Additional candidates may be placed in nomination by a petition filed with an Officer of the Association at least 30 days before the election, signed by 2% of the REALTOR members eligible to vote" (as of Record Date).