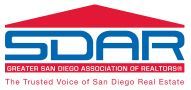 Election Process for 2019 SDAR Director Positions
Nominations closed as of May 18 for the position of 2019 SDAR Directors.
The Nominating & Election Committee will be interviewing qualified candidates prior to the June board meeting. The Candidate Guide will be available online and in the San Diego REALTOR® e-publication in mid-August. The election of 10 new Directors will take place in late August 2018.
Timeline of Election of Board of Directors
June 15 - Board of Directors approves recommendations for election ballot.
July 9 - Deadline to petition to be on the ballot AND in the Candidate Guide.
July 20 - Record Date (Voting members must have their current e-mail address on file at SDAR prior to this date. Contact Member Services or go online to ensure your e-mail address is current.)
July 27 - Deadline to petition to be on ballot only*.
August 20 - Online voting begins at 8:00 a.m. (E-ballot sent via e-mail to all eligible members.)
August 30 - Online polls close at 5:00 p.m.
August 31 - Nominating/Election Committee meets to receive results.
September 21 - Election results reported to Board of Directors for ratification.
TBD - Annual Meeting - President declares the election results.
For questions about the election process, call (858) 715-8035.
* Petition Process as per SDAR Bylaws: "Additional candidates may be placed in nomination by a petition filed with an Officer of the Association at least 30 days before the election, signed by 2% of the REALTOR® members eligible to vote" (as of Record Date).