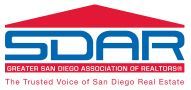 Media & Press Releases
Stay up to date on the latest real estate news and issues. Press releases are published below including our Monthly Housing Statistics outlining the latest trends in the local real estate market.
If you belong to a news outlet or a related real estate organization, please contact us with any press releases, news or events that are relevant to the real estate industry. Our communications department will review any requests and post to the appropriate sections of our site or publications.
Note to Members of the Press:
For all media requests, including interviews with the SDAR President, contact the Director of Marketing & Communications at (858) 715-8010.