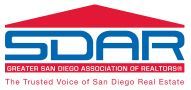 Paragon Documentation Help
Quick Start Guides are 3 or more pages in length and contain the essential information for getting started with a basic task-oriented approach to learning various modules within Paragon. Check back often as we continue to update and add new titles! All Quick-start Guides are provided in the PDF format for printing & viewing. If you do not have the PDF reader, you can download a copy for free directly by clicking the link provided below:
Contact Us
We help our members sell more homes.
We help people realize the dream of homeownership. We are dedicated to protecting private property rights.
Greater San Diego Association of REALTORS®

Business Rating
Click Here to
view profile​​​​​​​