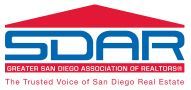 Risk Management
Transaction Forms
Risk Management Forms
SDAR publishes Risk Management Forms, all designed to give REALTORS® additional ways to manage and reduce legal risk. You can download samples of each, and Question and Answer (Q&A) sheets on the most commonly used. Order C.A.R and SDAR Forms online by logging into Member services on your right. Get SDAR Risk Management Forms on zipForm®, a FREE benefit to SDAR Members.
zipForm®
Local transaction forms are available FREE for SDAR REALTOR® members to download. All other San Diego County REALTORS® who wish to download the forms can get them for $69/year through zipForm®.
Contact Us
We help our members sell more homes.
We help people realize the dream of homeownership. We are dedicated to protecting private property rights.
Greater San Diego Association of REALTORS®

Business Rating
Click Here to
view profile​​​​​​​